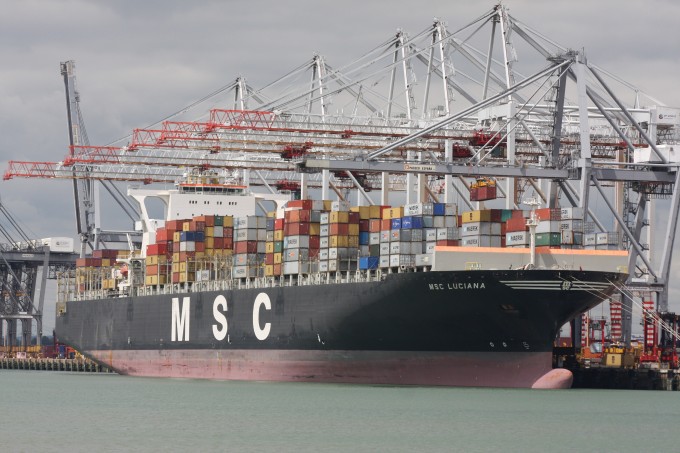 A container shipping line announcement that it would blank four sailings in the Golden Week period has left shippers, still struggling to get cargo out of Asia, "staggered" at the move.
The 2M is the first alliance to announce blank sailings over China's October holiday period and has left some shippers in limbo, with booked cargo on the cancelled sailings and still struggling to find capacity on brim-full export ships from Asia.
Maersk and MSC, the 2M partners, have cancelled four scheduled Asia-North Europe loops in weeks 39 and 40, thereby removing some 70,000 teu of capacity from the route.
According to an MSC advisory, the 2M will void the Griffin/AE55 loop and Lion/AE6 service in the last week of September, followed by the Albatross/AE5 and Lion /AE6 loops the following week.
The reason, said MSC, was "to enhance schedule reliability".
It is quite normal for carriers to blank sailings around the Golden Week holiday when demand traditionally eases after the main peak season rush, however, according to a carrier source recently, "this year the bookings backlog could fill our ships well into October".
So far Maersk has not officially confirmed the blankings, although it announced today a number of voyage number changes on the tradelane to reflect the sliding of advertised sailings, a consequence of port congestion delays.
"The recent unprecedented situation of severe port congestions globally has resulted in an accumulation of delays across several services on the Asia to North Europe network," said Maersk.
"This situation is driven by a combination of rapidly increased demand and measures to fight the pandemic across ports and supply chains in general. These accumulated delays are currently causing gaps in the schedules and resulted in several Asia departures being spread apart by more than seven days," added the carrier.
It said it had "decided to adjust the voyage numbers" of the sailing of the MSC Istanbul in week 42 and the MSC Bettina in week 43 "in order to match with the corresponding actual departure weeks of the vessels and services".
Indeed, 'slidings' have generally replaced 'blankings' on many tradelanes, with demand remaining high and schedule reliability regarded by many carrier operations desks as "an impossibility", given the knock-on effect of severe port congestion.