The first of MSC's latest series of ships has arrived in northern Europe from Asia. Despite its standard dimensions, its additional row of container stacks gives it a record-breaking capacity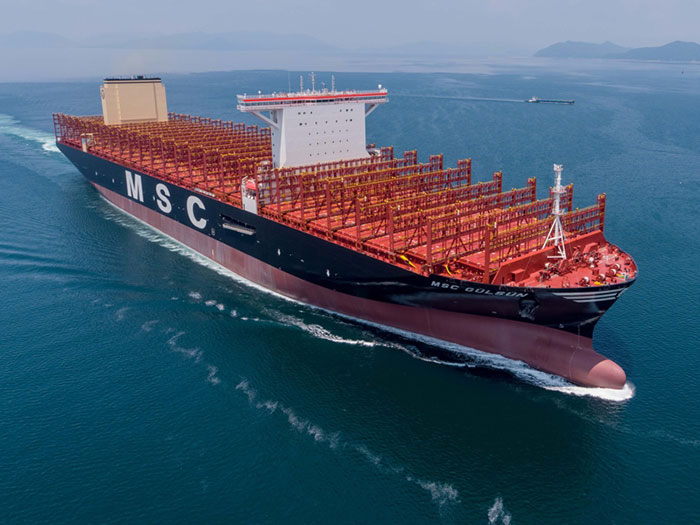 MEDITERRANEAN Shipping Co's 23,756 teu MSC Gülsün, currently the world's largest containership, has completed its maiden voyage to Europe.
Vessel tracker data from Lloyd's List Intelligence shows that MSC Gülsün was due to arrive in Bremerhaven after calling at Algeciras in Spain last week, following a voyage via the Suez Canal from Yantian in China.
MSC Gülsün is the first of an 11-ship series of vessels that MSC ordered in 2017. Sistership MSC Mina has also entered service and was last reported en route to Tanjun Pelepas in Malaysia.
At 400 m loa, MSC Gülsün is roughly the same dimensions as the recent deliveries of ultra-large containerships, but has the distinction of having 24 rows of containers across its 60 m beam, rather than the usual 23, allowing for the higher nominal capacity.
MSC is promoting the new ships as highly energy efficient, saying they will help reduce the amount of CO2 emitted per container carried.
As well as being fitted with a hybrid scrubber system, the vessel can also run on low-sulphur fuel and could also later be adapted for LNG, MSC said.
"MSC Gülsün's improved energy efficiency and fuel economy ensure that MSC is on track to meet international 2030 environmental policy targets set by the International Maritime Organization ahead of time, building on a 13% improvement in CO2 emissions per ton of cargo moved already achieved across the MSC fleet between 2015 and 2018," the carrier said in a statement.
MSC Gülsün and MSC Mina are serving on the 2M Asia-Europe AE-10 / Silk service. The loop links China and South Korea with northern Europe, including the Baltic Sea port of Gdansk, via wayport calls at Tanjung Pepelas and Algeciras.