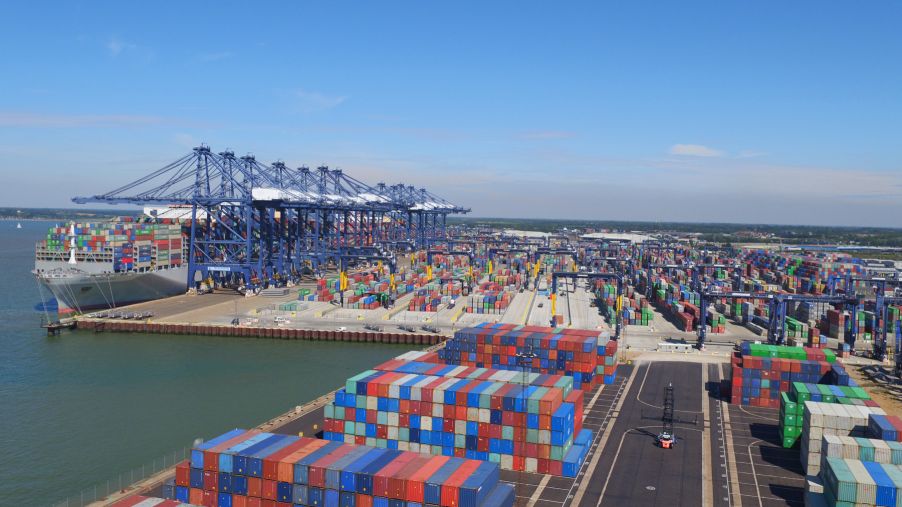 Problems with the UK's inbound supply chains, heightened by unexpectedly high demand and congestion at key container ports, have escalated to a point where some manufacturers are being forced to suspend production and some retailers are struggling to restock.
The decision by car manufacturer Honda to suspend production today at its Swindon plant because of a "transport-related parts delay" has highlighted problems that freight forwarding and logistics companies and their customers have been facing to varying degrees since the end of the summer, caused by a mixture of factors including unexpectedly high demand and congestion at some UK ports.
Freight forwarders have been reporting congestion issues since September at the UK's largest container port, Port of Felixstowe. The British International Freight Association has said association's freight forwarder members had repeatedly flagged issues about inefficient operations at Felixstowe, including problems with its vehicle booking system (VBS).
Hutchison-owned Port of Felixstowe has blamed the port's congestion issues on a mixture of global supply chains being under pressure, although it has also put in place plan to address the specific issues at the Port of Felixstowe, including "increasing the level of resource available, developing additional storage capacity and working with customers and partners to remove long stay containers as quickly as possible to reduce congestion".
In an update this week, the port said: "Port of Felixstowe, like other major container ports worldwide, is still experiencing a spike in container volumes and dealing with the consequences of the ongoing Covid pandemic. In addition, we have had a high number of slow-moving containers of PPE occupying storage space.
"The current high volumes are expected to last into the New Year and we are working hard to minimise the impact on daily operations and to maintain vital supply chains."
The port is reportedly still dealing with thousands of containers of personal protective equipment for health workers that have not yet been collected.
In its latest update on the current situation, the port noted that it was "fully operational", and has "been working with the Government's principle forwarder to remove PPE containers as quickly as possible. Excess volumes have reduced significantly since the peak and should all be cleared within the coming week."
Amid reports that the congestion at Felixstowe had spread to create congestion issues at other UK ports such as DP World-operated Southampton and London Gateway, DP World commented: "The confluence of Covid, seasonal trade, and Brexit is placing understandable pressure on the UK port network. Our teams at London Gateway and Southampton are working tirelessly to manage the additional traffic through our ports while maintaining our high customer service standards."
Container ports in continental Europe appeared to be managing heavy fourth quarter import flows far better than the UK, although across Europe, volumes had increased throughout Q3 and into the fourth quarter, prompting carriers to add additional services. Most of northern continental Europe was handling the unseasonal demand "pretty well" with port terminals and depots operating "smoothly" and not suffering from significant congestion, infrastructure issues or equipment shortages.
By contrast, container terminals in the UK are struggling to cope even before anticipated 'Brexit' disruption adds to the pressure to the country's freight flows at the turn of the year.
As reported earlier this week, analysis by Drewry highlighted that cargo owners are bearing most of the cost burden of the current congestion crisis that is affecting multiple container ports around the world – including loss of business as well as additional costs.
Ankush Kathuria, Lead Analyst at Drewry Maritime Financial Research, highlighted that shippers "generally bear the burden of inefficiencies within the supply chain", noting that when they are aware of the inefficiency, they are better prepared. "But for inefficiencies caused by disruption – such as COVID-19 – shippers have to bear the indirect cost as well, such as loss of business due to late delivery and increased stock holding", caused by longer or less-reliable service lead times.
As for the causes, he indicated that there is a complex series of inter-connected reasons, although each industry segment has its own justification or explanation of the causes.
"Shippers contest that the recent consolidation in the shipping industry has given unwarranted power to the big three shipping alliances, which virtually dominate 85% of the market share. Their respective capacity management efforts have led to the recent spike in container freight rates, which has stirred the regulators in many countries to closely watch the situation," noted Kathuria.
However, shipping lines claim that a number of factors have been involved, including rerouting or cancelling of port calls that have led by increased time to complete the round trip – in part due to quarantine measures opted by various ports worldwide. And while "the technique of positioning containers based on historical trends and future projections across ports works in the normal course, it has failed in the current stressed situation", Kathuria noted.
"Ports, on the other hand, claim that with easing lockdown measures, volumes have picked up suddenly and they are doing their best to deal with the situation. While they believe it is a short-term phenomenon and expect normalcy to return soon, some ports have opted to increase their workforce, while others have introduced overtime to deal with the situation.
"Additionally, the capacity of inland transport and warehousing providers in each market is broadly fixed, and therefore, cannot be easily ramped-up to meet short-term fluctuations in demand."