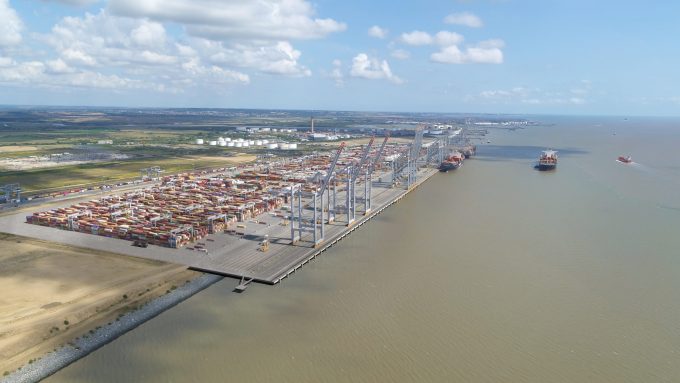 The UK is set to receive another injection of container port capacity: DP World announced today it would begin construction of a fourth berth at London Gateway next month.
The Dubai-headquartered port operator said this morning it would invest £300m ($415m) in the new facility, building on the £2bn-plus it has already ploughed into the UK's newest deepsea port.
The operator said London Gateway handled 888,000 teu in the first six months of 2021, beating its previous first-half record by 23%, the operator said, and suggested that full-year volumes could near 2m teu.
Meanwhile, first half-volumes at DP World Southampton climbed to 995,000 teu, but with little physical room for the south coast hub to expand, it should be expected that London Gateway will overtake Southampton as the UK's second-largest box port sometime in the next few years.
DP World added that the new fourth berth would raise capacity overall capacity at the port by a third and completion would coincide with the delivery of a new wave of 24,000 teu vessels in 2023 and 2024, which will all be operated between Asia and Europe.
According to the eeSea liner database, the current capacity of London Gateway is 1,875m teu a year, and it currently handles 23 liner services – one Asia-Europe  apiece from The Alliance and 2M; several Europe-South America, Europe-Middle East/Indian subcontinent and Europe-South Africa services; and four transatlantic services, two of which are provided by THE Alliance; as well as a variety of feeder and intra-Europe strings.
DP World chairman and CEO Sultan Ahmed Bin Sulayem said: "I am delighted to announce that we will go ahead with our latest major investment in the UK, which will give London Gateway more capacity to handle the world's largest vessels than any other port in the country."
He also couched the investment in the context of the Thames Freeport development, which is being commercially launched in London today.
"As a central pillar of Thames Freeport, London Gateway's new fourth berth will allow even more customers to benefit from world-class ports and logistics, with unrivalled global connectivity, on the doorstep of Europe's largest consumer market," he added.
The freeport notwithstanding, the new capacity will be welcomed by carriers, shippers and forwarders, as London Gateway has not escaped the congestion seen elsewhere at the country's – and indeed the region's – ports.
Just this week, The Alliance notified shippers it would skip the London Gateway call next week of its AL3 transatlantic service "to mitigate schedule delays".